This marriage certificate answers s a number of family history questions.
Thomas Eaton, Surgeon  of Attack Gun Vessel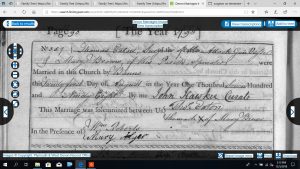 , married Mary Brown on August 21, 1798 at Stoke Damerel, Devon.  He signed his name and she made her mark (therefore she was not literate).  The marriage license was conducted by John Hawker, Curate, and the witnesses were William Roberts and Mary (illegible. – possibly Tyler).
Mary Thalia Eaton was born in  1801 at Stoke Damerel, Devon, England and died 23 March 1885 at Quarndon, Derbyshire. She and Thomas Hewitt were married 29 March, 1830 at St. Mary's Church, Ilkeston, Derby. The wedding was conducted by Rev. Rich. Moxon, and the witnesses were Benjamin Hewitt (possibly father of the groom), Eliza Eaton (possibly sister of the bride, since the bride's mother was not a customary witness), Thomas Cheetham (possibly uncle of the bride) and Thomas Eaton (possibly father of the bride).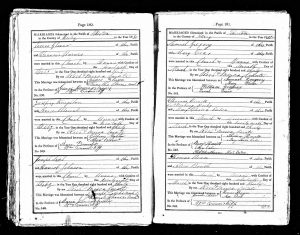 Almost every subsequent generation of descendants of  Mary Thalia Eaton has had a male child or two with  the middle name of Eaton. Three that come to mind are:
Thomas Eaton Hewitt – son of Thomas Hewitt and Mary Thalia Eaton
edward-eaton-walker – son of Sarah Hewitt (grandson of Thomas Hewitt and Mary Thalia Eaton) 1879 – 1903
Geoffrey Eaton Milligan – son of Edith Hewitt (great-grandson of Thomas Hewitt and Mary Thalia Eaton) 1922-1942
Post Script:
I received an email from a descendant of James Eaton who said their ancestor was not knighted, and had one son, not two daughters. Therefore I've moved the paragraphs mentioning James Eaton to the end of this section. I'll include what I previously wrote, as well as the sources for the information I used previously.  James Eoton's story is very exciting and thrilling.  Bnt not "our" Eaton. 
"This document lays to rest a number of family stories  about "Sir Geoffrey Eaton" who was supposed to have been the surgeon on Lord Nelson's flagship. The surgeon on Lord Nelson's flagship  was actually Dr. Gillespie. There was a Sir James Eaton alive around the same time (1785-1857); he was a 19-year old signal midshipman on the Victory and raised the famous signal, ""England expects that every man this day will do his duty" in the 1805 Battle of Trafalgar. Sir James Eaton had an illustrious career with the British Navy, and was in Algeciras, Cadiz, St. Gildas, China, Java, and North Norway. He served finally on the Beaver where he received a commendation for a daring rescue:
"[Eaton] particularly distinguished himself by his intrepidity , on 24 Oct. 1813, in putting off in the jolly-boat, with the only three men out of the whole ship's company who would volunteer, to the rescue, during a violent gale, of the crew of a Swedish vessell then on the point of foundering. Mr. Eaton [was] compelled to invalid in Aug. 1814 from a severe attack of rheumatism, brought on by over-exertion and exposure, with the loss also of the sight of one eye". (O'Byrne, 1849).
James Eaton married in 1816, had two daughters and by 1839 he was living at Hill House, West Bromwich, Stafford, where he died in 1857 (Greenslade, 1976)."
M. Greenslade, 1976, A History of the County of Stafford, Vol. 17, Oxford University Press., p. 4.
W.R. Byrne, 1849, A Naval Biographical Dictionary Comprising the life & service of every living member of her Majesty's Navy. London:  John Murray Publisher to the Admiralty.