SW 21 – 56 – 23 – W of the 4th was owned by John Milligan and sold to his nephew Ellwood Srigley ("Swigger") after the Great War.
Swigger was the son of John Milligan's oldest sister Annie, born at Grey County in 1896. He came out West in 1916 and in 1917 joined the Canadian Expeditionary Forces.  "Leaves of Yesteryear" (Chubb & Milligan, 1969) states that he spent six months in Vladivostok after the Armistice and before being discharged. Swigger bought a well-drilling outfit and dug wells around Bon Accord for twenty years.
Swigger operated the farm until 1935 when he sold it to Jack Milligan who lived there with his new wife Hilda.
The "little house" that Jack and Hilda moved into was a former granary with a number of add-ons. The farmyard was dominated by a large barn. This is the view facing north.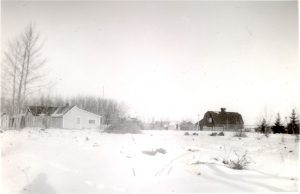 A new house was built in 1952 and in 1963 a smaller house was moved onto the place in 1963 for one of the sons and his wife.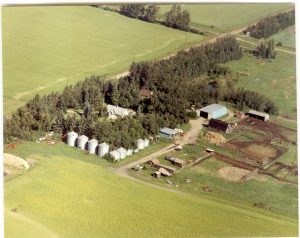 Hilda was very proud of all the trees that had been planted on the homesite.
The barn is still standing as of 2017. It could be one hundred years old.