The Draper family leads us to the "gypsy" connection that Granny White (Kate Elizabeth Butterworth) always claimed was on Granpa White's (Henry William White) side. Anna Maria Twelvetree  was supposed to have been the daughter of a tinker in the New Forest, which is near Dorset in Thomas Hardy country.  That's the story – here are the facts I've found, plus a few more stories.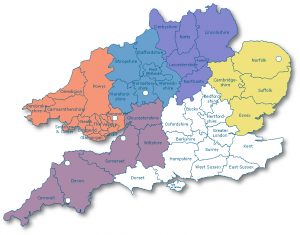 Joseph Draper was married to Anna Maria (Hannah) Dixson on 2 October 1811 in the Parish Church, Walkern, Hertfordshire.  He was 18 and she was 20.  Anna Maria's parents were John Dixson and Susanna Twelvetree.  Susanna Twelvetree's parents were William Twelvetree and Anna Maria Bays. Biggleswade, Bedfordshire was the home of the Twelvetree family. Bedfordshire and Hertfordshire border each other north of London.
Joseph Draper was the son of  Samuel Draper and Mary Aylott.  Mary Aylott was the daughter of William Aylott and Susanna Harvey.  In 1712 Susanna was one of sixteen townspeople from Walkern, Hertfordshire who testified against Jane Wenham, the last woman to be condemned of witchcraft in Britain.
An early mention of the Twelvetree family was found in a timeline of Biggleswade, Bedfordshire;
William Twelvetree in the courts: 1786 Apr 15. Report of George Nares on 1 collective petition (42 people, in and near Biggleswade in Bedfordshire) on behalf of William Twelvetree, a servant in Biggleswade, convicted at the Bedfordshire[?] Lent Assizes, for stealing 2/-, property of his master John Malden. Initial sentence: 7 years transportation. Grounds for clemency: first offence, is of good character, is willing to 'serve the state in any capacity by land or sea'. Recommendation: to enlist in HM Forces. www.biggleswadehistory.org.uk/timeline/
In the 1841 English census the Draper-Dixson household on Gore Street, Hitchin, Stevenage, Hertfordshire included:  Joseph, age 45, occupation- gardener, Hannah, age 45, Eliza, age 15, Mary Ann, age 15, Catherine, age 14, and Elizabeth, age 9 (note that ages on census records are frequently wrong, as are names).  Two and possibly three more children have already left home:  John (born 1818 or 1819 and William (born 1814). Both had been transported to Australia.
William Draper was one of 260 convicts transported on the Henry Porcher, 29 August 1834     Convicted at Herts. Quarter Session for a term of 7 years on 07 April 1834. (http://www.convictrecords.com.au/convicts/draper/william/27331).
 New South Wales, Australia, Convict Indents, 1788-1842 indicate that William Draper was convicted of  housebreaking and sentenced to seven years in New South Wales. His description was "sallow" with brown hair and eyes. His scars were detailed extensively: (State Archives NSW; Series: NRS 12188; Item: [4/4019]; Microfiche: 693)
John Draper was one of 270 convicts transported on the Eden, 08 July 1840. He was convicted of stealing lead at Herts. Quarter Session for a term of 14 years on 30 December 1839.
In 1843 Joseph was working as a gardener for the Reverend George Blecher Blomfield of Stevenage Parish, Hertfordshire. Four daughters were still at home;  Elizabeth,  Mary Ann, Catherine Dixon, and Eliza, between the ages of 9 and 18. On April 8, 1943 the Hertfordshire Reformer announced that  Joseph Draper had committed suicide under circumstances described as peculiarly distressing.  Reverend Blomfield  and James Bates discovered the body of Joseph Draper on the way to church. "I had had no dispute with the deceased nor found any fault with him", said Blomfield, adding, "I understand that his wife and family had been constant trouble to him".  Elizabeth Draper, the oldest daughter, said her father told her, "He should go away; he could not face Mr. Blomfield any more. My sister Mary had been sent to prison".  James Sheffield of Stevenage told the newspaper that he had broken the news to Joseph Draper about his daughter: "I met the deceased…and told him what I had heard; that his daughter, Mary, had gone to gaol on suspicion of poisoning her mistress.  He was surprised and appeared to me to be very cut up. He said, I think, 'There is nothing but trouble for me'".
More details emerged about Mary Ann's crime in the next few months. A July 22, 1843 report in the Leicestershire Mercury had the most complete account:
At Hertford, yesterday week, Mary Ann Draper, aged 18, and rather a good looking young woman was charged with having feloniously administered to Mary Day, at the parish of Baldock, a certain poison called oxalic acid, or some other destructive thing, with intent willfully, and of her malice aforethought, to poison and murder the prosecutrix who was prisoner's mistress, and had accused her of stealing a table cloth. She afterwards admitted the theft, but denied giving the poison. The jury, after a short deliberation returned a verdict, finding the prisoner guilty of administering the poison, but not with intent to murder.  Mr. Baron Parke said that this was tantamount to a verdict of Not Guilty. Prisoner was then arraigned upon another indictment for stealing the table cloth. The jury found her Guilty.  Baron Parke sentenced her to seven years' transportation.
Mary Ann Draper was transported on the Emma Eugenia, leaving England on November 16, 1843, and arriving in Hobart, Van Diemen's Land [Tasmania] on April 2, 1844. She was one of nearly 12,500 women transported to Van Diemen's Land in total throughout the years, mostly for petty theft. Mary Ann was lucky in her sentence:  stealing goods worth more than a shilling was sometimes punished by hanging.  On arrival, Mary Ann was declared to be age sixteen; with a fresh complexion, brown hair and hazel eyes. Her trade was listed as housemaid .  She could read but not write.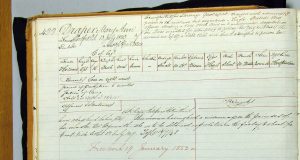 Mary Ann likely spent the first six months of her sentence on the Anson, a penitentiary on a converted naval ship where prisoners were taught domestic skills.  From there she could become a probation passholder and be employed privately.  This was an innovation; previously all women had been sent to the Female Factories in Hobart, George Town, Launceston, and later Ross. But Tasmania needed female labour and prisoners filled that need.  If they committed a crime, they were sent to a Female Factory.  Mary Ann was sentenced to 10 days hard labour in 1847 for being absent without leave for ten days, after which she was detained on probation for six months in the Hobart factory.  Her crime was having a miscarriage on the premises of her master Mr. Weymouth.  At that point she was twenty or twenty-two years old.
In July of 1848 Mary Ann received a Ticket of Leave, meaning that she could earn her own living and live independently, but was still under surveillance.  The Tasmanian Government promoted tickets of leave because it saved money. In 1849, she and John Watkins, also a convict, were married.  Watkins had been sentenced at Croydon for stabbing a man, and had been transported for fifteen years in 1842. Mary Ann was Free by Servitude in 1850, and a Certificate of Freedom was issued in 1852.
Mary Ann and John Watkins had eleven children. She died in Hobart, Tasmania in 1899.  No records have been found of William and John Draper other than their tickets of leave and certificates of freedom.  Contact has been made with one of Mary Ann's descendants in Australia.
Another daughter of Joseph and Hannah was Catherine Dixon Draper, born in 1827. It's not clear what she did after Mary Ann's transport to Tasmania, but her name turned up in 1850 when she married Alfred Banks, a commercial traveler, at St. Paul's, Bunhill Row,Finsbury,London. Their first daughter, Elizabeth Kate Banks was born in London on August 21, 1851. Elizabeth Kate grew up to marry Henry Butterworth, a chemist. Their second daughter was born on her mother's birthday in 1875 and named Kate Elizabeth.  Kate Elizabeth Butterworth White, my grandmother, talked about her father Henry Butterworth's suicide on the grave of his four-year old son, and about Anna Maria Twelvetrees, a mysterious gypsy ancestor, but a word was never breathed about the great-aunt and great-uncles who were transported to Australia or the great-grandfather who could not face any more disappointments.
A 76- year old woman named Hannah Draper, occupation hawker, appears in the 1871 English census, living in Stevenage, Hertfordshire. This may be Anna Maria Dixson Draper.  Her death date is 1873.
This is the direct female line that traces back to our 'gypsy' ancestors – more properly known in Britain as travellers;
Anna Maria Bays m. William Twelvetree
Susanna Twelvetree m. John Dixson
Anna Maria Dixson m. Joseph Draper
Catherine Dixon Draper m. Alfred Banks
Elizabeth Kate Banks m. Henry Butterworth
Kate Elizabeth Butterworth m. Henry William White
Hilda Mabel White m. Jack Milligan
Daughters, grand-daughters and great-granddaughters
.