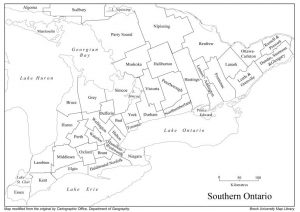 Little concrete information has been found about Peter McPherson. The family story is that he was of U.E.L. origin, and that an uncle swindled him out of his land. The other story is that he was killed by a runaway team. The only official piece of information that has been found is the marriage of Peter Mcpherson to Susan Bamford on Feb. 10, 1846 in the Gore District of Ontario. They had two daughters, Annie  b. 31 December, 1847 in Brantford and Jennie (or Jane), possibly born in 1849 in Norwich Twp;, Oxford County (Brock/London District).  In 1855 Annie McPherson was baptized at the age of eight at Grace Church, Brantford.
According to census data, Susan Bamford was born in Ireland in 1818.  Peter was born in Scotland.  Susan remarried Robert Campbell in 1856 who lived on lot 18, South of the Durham Road in Bentinck Township. In the 1861 census Jane Mcpherson, age 12, is living with Robert and Susan Campbell, and John S. Campbell, age 5.  John S. became a teacher and drowned at the age of twenty-five leaving a young wife, Flora McArthur.
In the 1891 census, Jennie McPherson Patterson, widow with four children, lived in Thessalon where she was an innkeeper.  Thomas Moore is on the same census as "bartender" and Susan Campbell is listed as "mother".  Susan Bamford McPherson Campbell died 6 July, 1894, at Thessalon, Ontario from insanity, duration 4 weeks. (At the same time Annie McPherson Milligan and her family were living on Manitoulin Island, which is close to Thessalon).  By 1901, Jennie had married Thomas Moore and he is listed as "innkeeper".
The following is miscellaneous information that may be useful in figuring out more about this family's connections;
 Birthplace of Jane (Jennie) McPherson
Jane McPherson  in the Web: Canada, Wesleyan Methodist Baptismal Register, 1828-1910
http://freepages.genealogy.rootsweb.ancestry.com/~wjmartin/wm-mc_80.htm
1
155
District/county

Brock /London

Norwich Twp.
Jane
McPherson
Peter
Susan
Birthplace

Norwich

Residence

Norwich

Birth

1849-01-14

Baptism

1852-05-01

Baptism place

London

Pollard, Rev. Wm.
2. The Bamford Connection (also spelled Banford, Banfort and Bamfort)
Witness at Annie McPherson's wedding March 1, 1864 was Annie Bamford.
Annie Bamford married John Leeson 1866.
She died September 25, 1917, aged 68 years.
Questions; Is Annie Bamford Annie McPherson's cousin? ( Susan Bamford was Annie McP's mother)
3.  In the West Bentinck Presbyterian Cemetery, Grey County, where William Milligan and his family are buried, the Leesons and Bamfords are also buried.
Annie BAMFORD   1849-1917  (17 July 1849 – born in Ontario)
John Leeson died October 15, 1919 at age 80 years; also his wife Annie Bamford died September 25, 1917 at age 68 years; also their sons: William J. Leeson died December 27, 1871 at age 4 years 21 days; Joseph Leeson died May 7, 1908 at age 38 years 3 months; and their daughters: Jennie Leeson died January 9, 1905 at age 30 years 8 months; Annie Leeson died March 22, 1904 at age 24 years 7 months 14 days (1871 Census Division 3 Ref. #61) – See more at: http://geneofun.on.ca/names/photo/186702?PHPSESSID=b9896b576cf0d1b3eb0958f2c55a046d#sthash.zAEumKGD.dpuf
Source: http://geneofun.on.ca/cems/on/ONGRY10910?PHPSESSID=b9896b576cf0d1b3eb0958f2c55a046d
Both Annie Leeson (senior) and her daughter Jennie died of tuberculosis (see Ontario death certificates).
4. Possible UEL connection through Bamfords
| | |
| --- | --- |
| Name: | John Banford |
| Arrival Place: | Canada |
| Source Publication Code: | 6407 |
| Primary Immigrant: | Banford, John |
| Source Bibliography: | OLSON, VIRGINIA H. "Notes and Sources: Connecticut Loyalists Who Went to Canada." In Connecticut Ancestry, vol. 17:1 (Sept. 1974), pp. 18-25; vol. 17:2 (Nov. 1974), pp. 51-59. |
| Page: | 21 |
Source Citation
Place: Canada; Page Number: 21
Source Information
Ancestry.com. U.S. and Canada, Passenger and Immigration Lists Index, 1500s-1900s [database on-line]. Provo, UT, USA: Ancestry.com Operations, Inc, 2010.
Original data: Filby, P. William, ed. Passenger and Immigration Lists Index, 1500s-1900s. Farmington Hills, MI, USA: Gale Research, 2012.