Family legends start with family secrets. This piece of writing is about my family's connection to tinkers and travelers in the New Forest of England. It consists of three stories about three generations of grandmothers and a family mystery. Kate Elizabeth (Kitty), told us the story about the tinkers and travellers: her mother, Elizabeth Kate, might have known the whole story, and Elizabeth Kate's mother Catherine, lived it and possibly kept it a secret.
Kate Elizabeth ("Kitty") (b. London, England, 1875, d. Edmonton, 1965)
Kitty, my grandmother on my mother's side, is in her late 80s when she comes to stay with us. She has a good widow's pension from the CPR, enough to let her move from house to house to stay with one or another of her children for a few months at a time. She would like to stay with her son John, but his wife has drawers of black lingerie that offend Kitty. (How does she know?) Next in preference is her son Bob, but his wife's elderly mother visits a lot. The third choice is with us, the family of her daughter Hilda, on the farm.
We have a kind of love-hate relationship with Kitty. She objects when I stir my ice cream into a slurry, and sometimes she backs up her criticism with "Eskimos don't like chocolate". It seems like a non sequitur until I see the television ad for pudding with that sentence. She doesn't like how she looks in photographs; if she thinks she looks too fat, she cuts her head out of the picture. Then we have photos with "headless Granny".
We help her do things, but sometimes reluctantly. Once she paid a visiting kid five dollars to help her move her bed closer to the window. My mother does all of the elder-care – she must have had to forgive Granny for many slights and slurs in her life.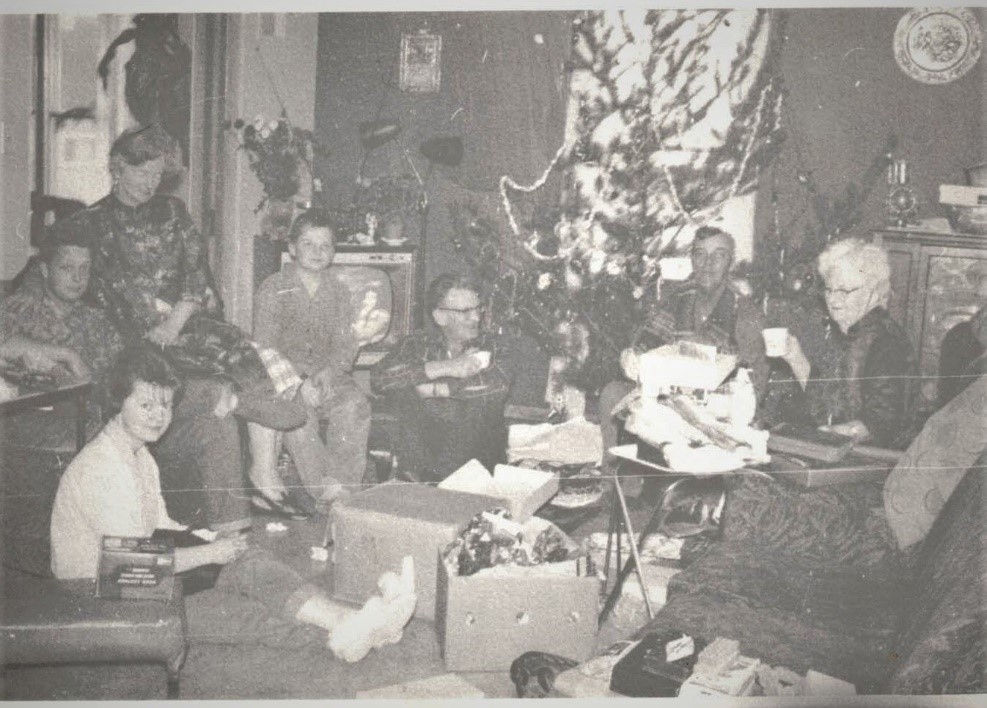 Kitty (Kate Elizabeth) age about 88, on the far right. This snap was taken about 1962.
Kitty likes the fuss of the farm, particularly at Christmas when she can watch the Queen's Christmas message. She always sits in "Granny's chair" in the living room. The cat also likes the chair, so whenever Kitty gets up, the cat hops into the empty warm space. Kitty has to swat at the cat to get it out and sometimes the cat swats back. Then both Kitty and the cat have to be rescued.
She likes to tell us how she got her name: she was born on August 21, her mother's birthday and given her mother's name in reverse, Kate Elizabeth instead of Elizabeth Kate.
Another story is about her brother Freddie, the only boy among six girls. He died a few days before his fourth birthday. A rocking horse arrived at the house, ordered before the death, and her father killed himself on Freddie's grave. She tells this matter-of-factly. You would think she had no feelings about the matter. Still, when a baby is born into the family, Kitty always says "Good" if it's a boy and "What a pity" if it's a girl.
She talks about working at the Bon Department Store in London, England; she is in Books and meets the bookkeeper from Accounting. His name is Henry William but everyone calls him Vorley because that was the name of the bookkeeper before him. In 1904 Vorley says he is going to immigrate to Canada, and Kitty says she is going too, so they have a hurry-up wedding.
Finally, Kitty gets to the most interesting part of the story. She says, "In our family we have "gypsies" and she talks about Vorley's piercing brown eyes. She attributes the brown eyes to his ancestors who were tinkers and travelers in the New Forest in England. Her son Bob has even written up a family tree showing Vorley's side of the family leading directly to Anna Maria Twelvetree. (It's regarded as the truth for many years).
Elizabeth Kate (b. 1851, London, England, d. 1935, Southwold, England)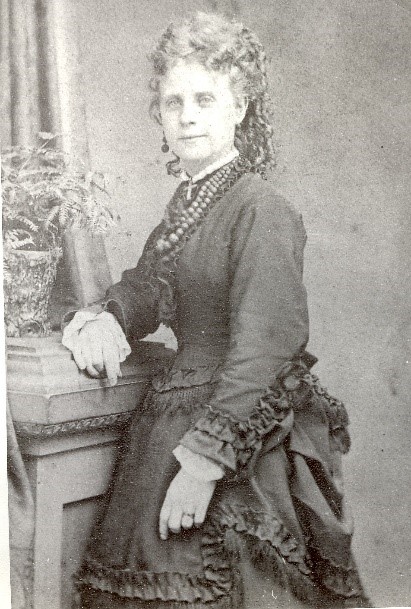 Henry leaves an estate of 99 pounds to his wife and children. Six daughters now have no father:  Annie, Kitty, Florrie, Beatie, Lellie (Henrietta), and Mabel.  Elizabeth Kate gives birth to a baby boy six months after Henry's death.  The baby is named after his father and always called "Boy". Elizabeth Kate fields her children out to orphanages and boarding schools. Annie and Kitty go to a good school funded by a benevolent men's association; Florrie and Beatie go to the equivalent of workhouses. Lellie spends her life on a "board" – she never walks, and lives in an institution until her early death. Kitty says she looked like an angel, beautiful blonde hair and china blue eyes, perhaps like Kitty's eyes. Boy goes to a clergyman's family.  He never advances mentally beyond the age of five. Elizabeth Kate keeps Mabel with her and moves in with her parents Alfred Banks and Catherine Dixon Draper Banks.  Annie, the oldest daughter dies of tuberculosis; Mabel, the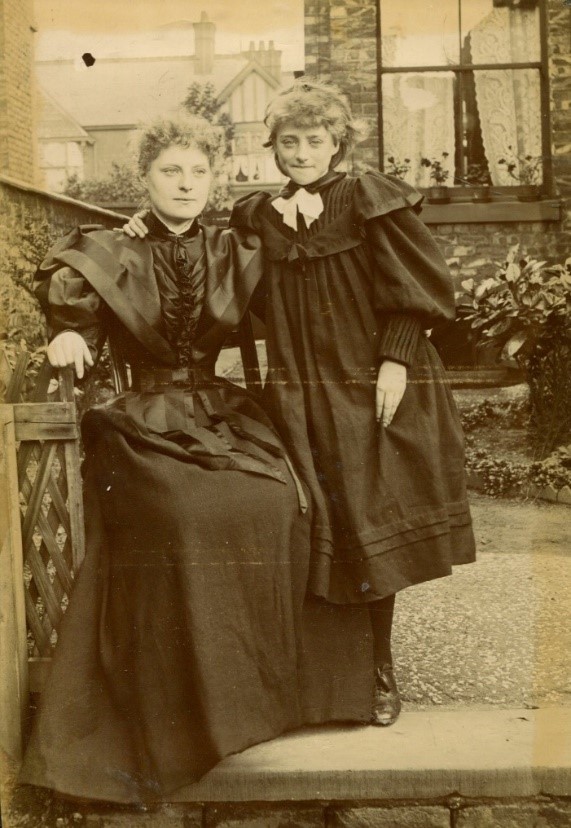 youngest, dies of peritonitis at age 17, just after she qualifies as a teacher. This photo is of Kitty (about 18) and Mabel who is about ten. .
Elizabeth Kate trains as a masseuse, and marries one of her clients, George Selfe, a "country man" from Southwold. The front row of Kitty and Vorley's 1904 wedding picture shows Elizabeth Kate's three surviving daughters; Beatie (standing to the left) then George, Elizabeth Kate, Vorley, Kitty, Vorley's father Major John White and Florrie (standing to the right).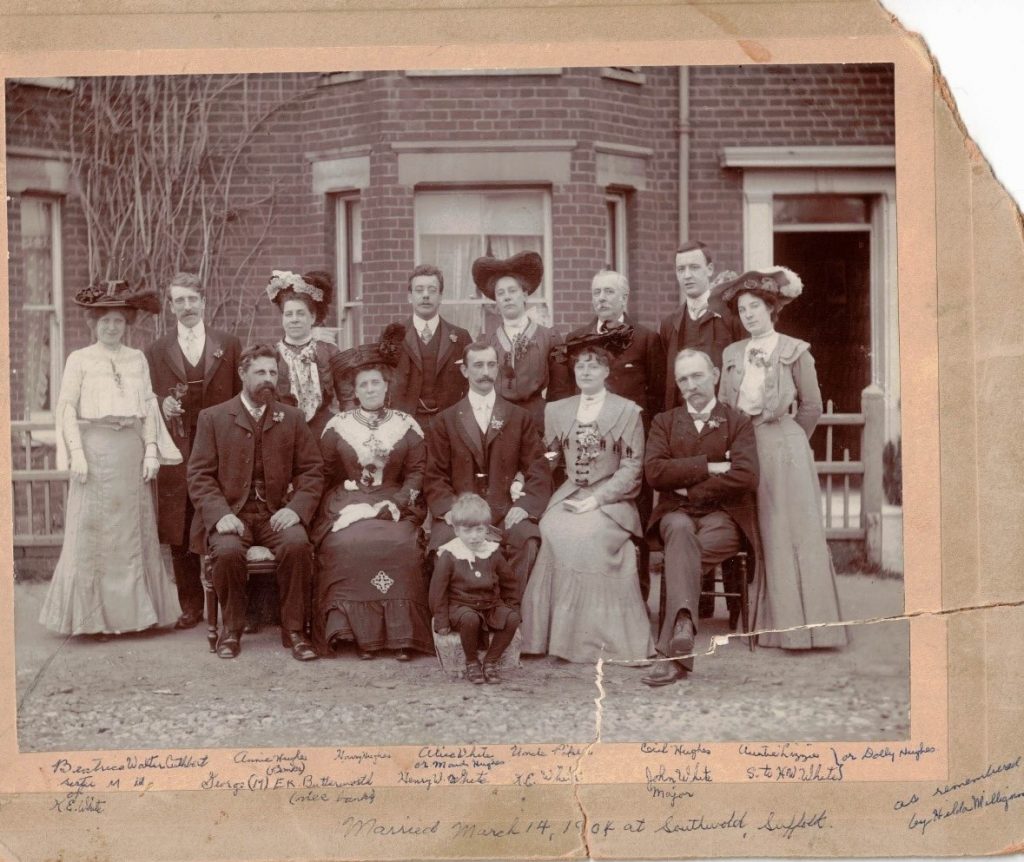 Catherine Dixon Draper Banks (b. Stevenage, Hertfordshire, c. 1827, d. London, England 1890)
Catherine is one of several daughters of Joseph Draper and Anna Maria Dixson. Joseph is the gardener for the Anglican Church in Stevenage, Hertfordshire. The Reverend Blomfield values his work and relies on Joseph to keep the grounds up and the equipment in good order. Anna Maria is a few years older than Joseph. She comes from Biggleswade, a small nearby town, where her Dixson and Twelvetree relatives all live. Since this is before photography was invented, we have no pictures of Catherine Dixon Draper, but there is a strong chance she resembled her sister Mary Ann, who was two years older. We have several good descriptions of Mary Ann; brown-haired and hazel-eyed, taller than average for the times, fresh complexion, small nose and oval face.
            Compared to Joseph's sedate job as a gardener, Anna Maria's family and work are rambunctious.  One grandfather was a tinker, and Anna Maria herself is a hawker at the markets, selling and buying goods of all types and with questionable ownership. A few years ago, two of Joseph and Anna Maria's sons received sentences for housebreaking (7 years) and stealing lead (14 years) and were transported to Australia.
In 1843, a couple of articles about the Drapers appear in the Hertfordshire Reformer. [i]
8th April 1843, p3
BALDOCK – Attempt to poison:- On Sunday last an attempt was made to poison Mrs Day of this town, by her servant Mary Ann DRAPER. For particulars, we refer our readers to the report of the Baldock Petty Sessions. The girl has been committed for trial. The unfortunate suicide of the girl's father, occasioned by the daughter's crime will also be found reported in our columns.
SUICIDE AT STEVENAGE
On Tuesday last the town of Stevenage was thrown into a state of much excitement by a report that a man named Joseph Draper, gardener to the Rev. G.B. Blomfield, the Rector of the parish, had committed suicide under circumstances of a peculiarly distressing nature. The report turned out to be true. The unfortunate man had, it appears, suffered much from the irregularities of his family, two of his sons having been sometime since transported. The distress of the old man on account of the misconduct of his sons, it appears, heightened into frenzy, by the intelligence that his daughter, Mary [Ann] Draper, living as a servant in a family in Baldock, was committed to Hertford for trial on Monday, on the serious charge of attempting to poison her mistress….
James SHEFFIELD, of Stevenage, yeoman deposed – …I met the deceased about seven o'clock on Monday evening. I shook hands with him and told him what I had heard; that his daughter, Mary, had gone to gaol on suspicion of poisoning her mistress. He was surprised and appeared to me to be very cut up. He said, I think "There is nothing but trouble for me".
Mark Row, of Gravely, beershop-keeper deposed – I knew the deceased. He was in my house last night about seven o'clock. He had one pint of beer and took one home. He was quite sober. He said: "My wife and her family are nothing but trouble for me" and on going out of the house he said that would be the last pint of beer he should take in that house. He had not complained of troubles before, although he came in sometimes for beer. He seemed cut up. I tried to pacify him.
Elizabeth Draper of Gravely, single woman deposed. I am daughter of the deceased; he was fifty-one years of age. Yesterday morning he said he should go away; he could not face Mr Blomfield any more. My sister Mary had been sent to prison. My father spoke of it; it seemed to distress him very much. Two of my brothers were sent away for something wrong.
Mary Ann Draper is found guilty of stealing a tablecloth but not poisoning her mistress, and is sentenced to seven years, to be served in Van Diemen's Land (Tasmania). The judge comments that she is "rather a good looking young woman". [ii] In November of 1843 she is transported on the Emma Eugenia to the Hobart Female Factory to serve her seven-year sentence.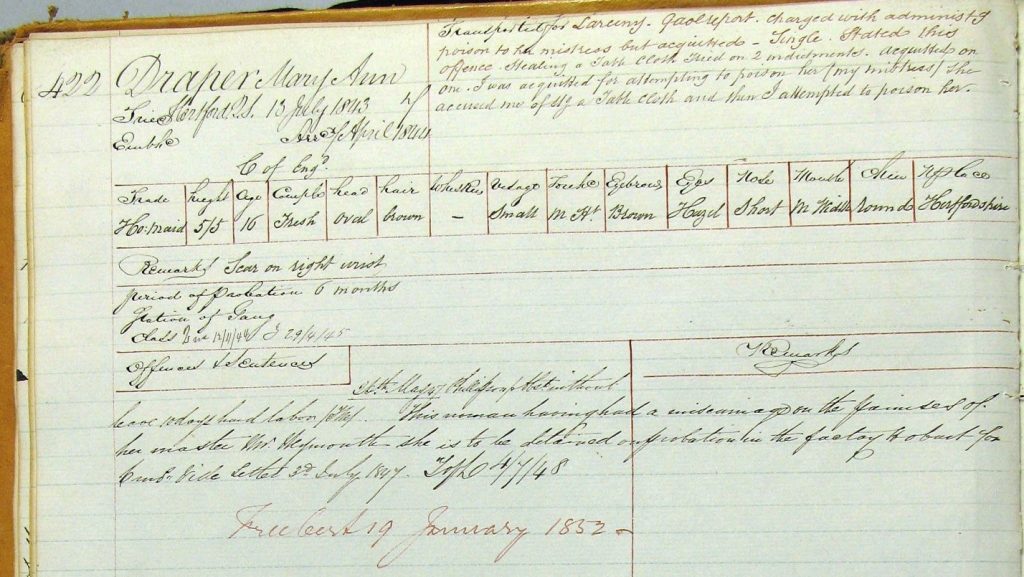 Her convict records[iii] indicate that her troubles are not quite over. In 1847 she receives a six-month additional sentence for having a miscarriage on her employer's property. Five years later she earns her ticket of leave, marries a fellow convict, has a large family, and never returns to England.
In the meantime, Catherine has lost her father and her sister in short order. She leaves Stevenage and the clutches of her mother's family and in 1850, marries Alfred Banks in Birmingham. Her daughter Elizabeth Kate Banks Butterworth and her granddaughter Kitty (Kate Elizabeth Butterworth White, my grandmother) never mention Aunt Mary Ann Draper.
Anna Maria Twelvetree was Anna Maria Dixson Draper's grandmother. Without going into further genealogical details, it's a direct female line from her to me.
Questions remain. When Catherine Dixon Draper moved away from Stevenage, did she completely erase her life before marriage as a hawker's daughter, sister of three transported convicts, and her father's tragic death? Who are the gypsies in England? How did Anna Maria Twelvetree's name remain in the family memory, only on the paternal side of the family? The only plausible way to handling the truth may be through fiction.
Sources of Information
Photographs from family albums
Data from Ancestry.ca
Family Conversations
Further Reading
De Zwart, M.L. (2018). Mary Ann Draper: 'She was a Gypsy, You know". In A. Alexander & A.M. Hodgson (Eds). Convict Lives at the Cascades Female Factory, 2, 14-18. Convict Women's Press Inc. PO Box 550, South Hobart, TAS 7004.Convict Records. State Library of Queensland. http://www.convictrecords.com.au/convicts/draper/mary-ann/92625
Swiss, Deborah. (2011). The tin ticket: The heroic journey of Australia's convict women. PenguinRandom House.
---
[i] The Hertfordshire Reformer, 8 April, 1843, p. 3
[ii] The Leicestershire Mercury, 22 July, 1843.
[iii]http://www.convictrecords.com.au/convicts/draper/mary-ann/92625