Walter Thomas Brindley Hewitt also known as "Colley" (1870-1917) was the eldest son of Mary Ann Brindley and Benjamin Hewitt, born in Roscrea, Ireland, in 1870. He went to South Africa with his Brindley uncles in the mid 1880s. He was active in the Boer War, and survived the siege of Ladysmith. W.T.B. wrote a letter to his mother, Mary Ann (Brindley) Hewitt about surviving Ladysmith. It was published in the Edmonton Bulletin, April 27, 1900.
WTB and his uncle George Joseph Brindley visited the Hewitts at Bon Accord in 1901-02. He gave his sister Edith Mary Thalia Hewitt in marriage to John Milligan, January 1, 1902. Benjamin Hewitt had died the previous year, and Mary Ann died in June of 1902.
When Walter and George visited, the Edmonton Bulletin reported they were looking for land. That didn't happen. They both returned to South Africa.
WTB had no children but was very close to his South African family. He died in 1917, as the result of pneumonia contracted from riding an open carriage on the veldt in South Africa.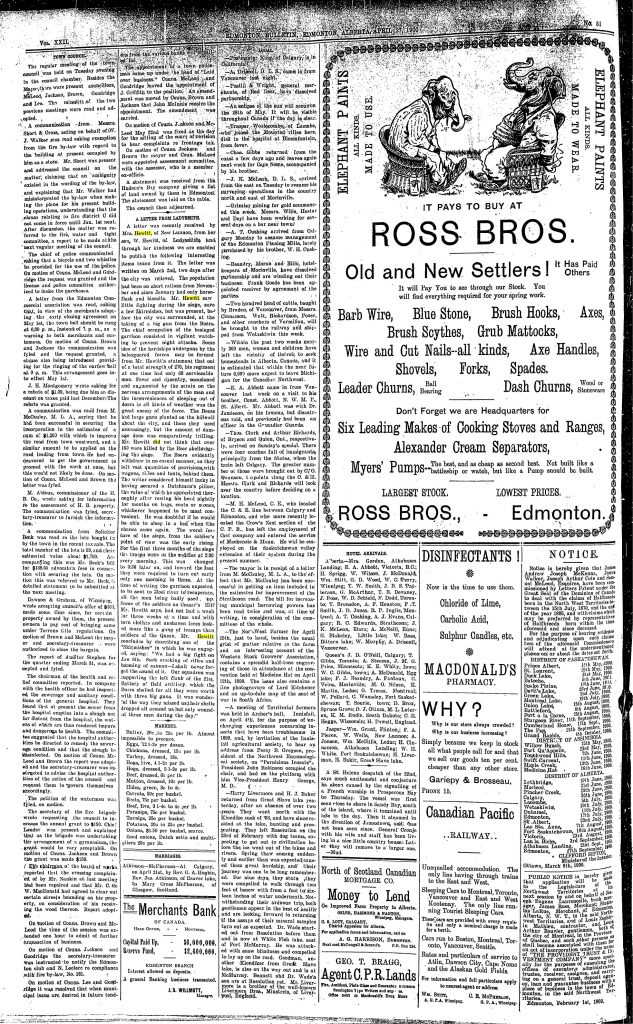 2. Victor George Brindley was born on 5 February 1890, in Maritzburg, Natal Colony, the son of George Joseph and Minnie Elizabeth Brindley. He and his younger brother Walter Edwin Knight Brindley were sent to Mill Mead and Oundle School in England at the ages of five and seven. Victor went into farming with his father after finishing his education.
On the outbreak of war, in August 1914, he volunteered for the South African Army, with which he initially served in the campaign against German South-West Africa. In December 1915, he went to Egypt with the 3rd South African Infantry. His battalion remained in North Africa until it was transferred to the Western Front in May 1915. There, Brindley spent about 15 months in the trenches, surviving, among others, the battles of Delville Wood (where almost all the South African troops were casualties) and Vimy Ridge, before entering the Royal Flying Corps on 29 July 1917.
Second Lieutenant Victor George Brindley was commissioned in November and returned to the continent on 14 July 1918. Brindley died just one month later, on 18 August, shot down in a Sopwith Camel, according to one source.
He is buried in Villers-Bretonneux Military Cemetery
http://theyserved.wikia.com/wiki/Victor_Brindley
The following excerpt is from the Oundle School history: Victor Brindley was noted as an excellent runner and sharpshooter. An officer described him as " A better man in a tight corner one could
not wish to meet."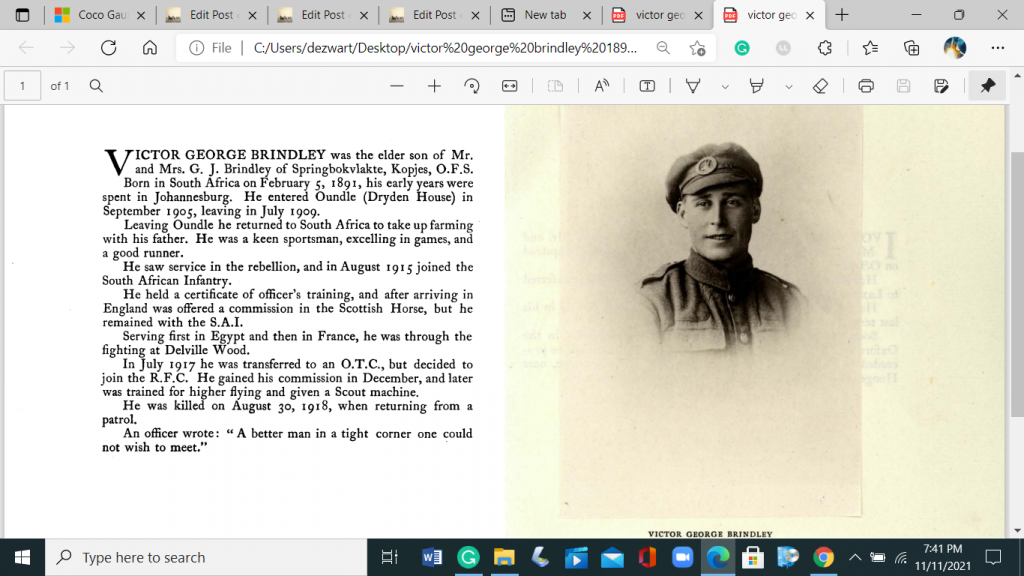 3. Arthur Robinson Ellwood Srigley (known as Swigger)
Ellwood Srigley was born July 14, 1896, at Gore Bay, Ontario, the son of Annie (Milligan) Srigley and William Srigley, who shipped ties from Gore Bay.
He came west to work for his uncle John Milligan. Swigger was drafted into the Canadian Siberian Expeditionary Forces in August, 1918, about the same time that Victor Brindley died.
Within one month, Swigger had come down with measles. This probably stopped him from being sent to the active front.
However, it did not stop Swigger from being sent to Vladivostok, Russia with the Canadian Expeditionary Forces. Fate intervened once again, and he came down with pneumonia. He was evacuated back to Canada in May of 1919.
Swigger bought, or received under soldier settlement guidelines, NW 21-56-23-W of the 4th. In 1935 Jack Milligan and his new bride Hilda White bought the quarter and moved onto it. The quarter is still in family hands.