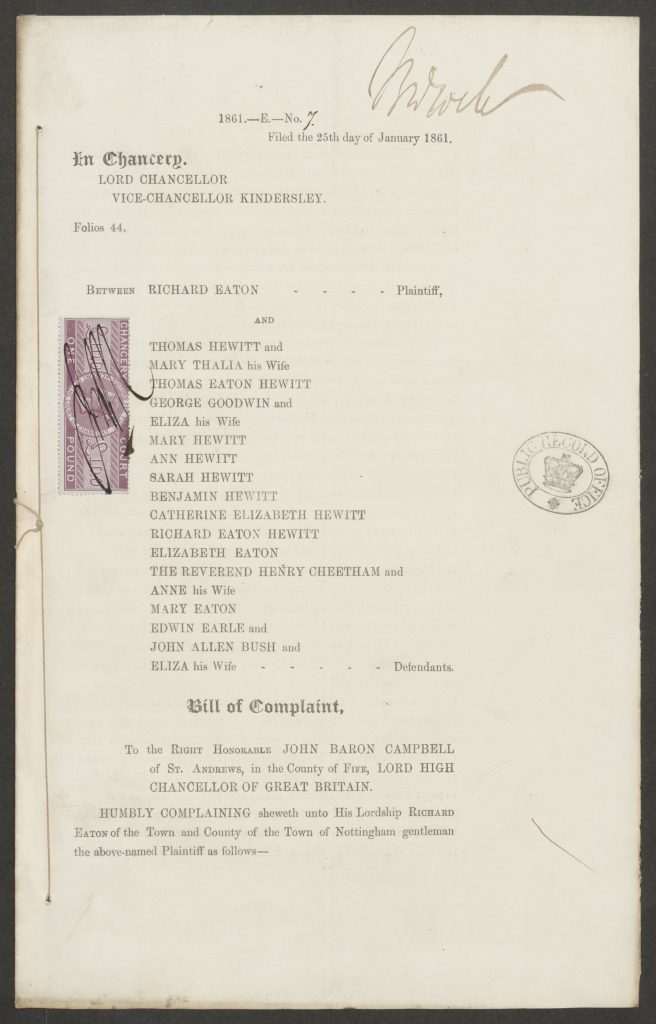 In 1832,Thomas Eaton 1 died at the age of 53 at Derby, Derbyshire, England. He was survived by two daughters, Eliza born in 1800 and Mary Thalia, born in 1801. Their mother was Mary Brown, who married Thomas 1 at Stoke Damerel, Devon. No record of Mary Brown's death has been found to date. (To lessen confusion, individuals with the same name will be referred to by numbers according to their chronological appearance in the story. "1" means first generation, mostly).
Thomas Eaton 1 was from a prominent Derby family of hosiers and dyers. He had joined the Royal Navy as a surgeon's mate and served on the Gunvessel Attack. His family had a long public history in Derby. Two of Thomas' brothers were the Derby County Gaolkeepers, first William Eaton 1, followed by Richard Eaton 1. William 1 had no children. Richard Eaton 1 and his wife Anne Hewitt Eaton 1, had eight children.
Thomas Eaton 1 wrote a will in 1831 in whicn he left everything to his daughters, depending on whether or not they married and had children. Mary Thalia had married Thomas Hewitt 1 in 1830 but did not have any children when the will was written. She had at least one child when her father died in 1832. Eliza was unmarried with no children. Thomas Eaton 1 left everything to Eliza so long as she was alive. If she should die without marrying and without having children, the estate was to go to Mary Thalia Eaton Hewitt's children. If Mary Thalia Eaton Hewitt did not marry and had no children, then each niece and nephew of Thomas Eaton 1 was to receive 1000 pounds. This would include the children of his brother Richard Eaton 1 and his sister Mary Eaton 1 who was married to Benjamin Hewitt 1 (1786-1843). Thomas Hewitt 1 (1800-1877) was related to Benjamin Hewitt 1, possibly a nephew.
Thomas Eaton 1 died; Benjamin Hewitt 1 (c. 1786- 1843) managed the estate sale.
The executors of the estate were changed from two solicitors (so far as I can figure) eventually to Richard Eaton 1, Thomas Eaton 1's brother, sometime between 1832 and 1842.
In 1842, Richard Eaton 1, County Gaolkeeper, died under distressing circumstances. He tried to shoot a mad dog, and by mistake, shot his son William 2, who was 16 at the time. He then shot himself. The papers of the times included the excruciating circumstances. For the full report and inquest, see The Derby Mercury, June 8, 1842, p. 3.
The first change in executors of the estate was from two solicitors to Thomas Eaton 2, son of Richard 1. He was a solicitor who went to Australia, married, and died in 1840, leaving one daughter, Elizabeth Eaton who was returned to England and raised by her father's family. After he died, the executor was changed to Richard Eaton 1, Thomas Eaton 1's brother. Then when Richard Eaton 1 died in 1842, his son Richard Eaton 2 was appointed executor and manager.
Eliza Eaton lived to 1859, and it's my best guess she had Richard Eaton 2, her nephew, help her manage the estate. He married Elizabeth Cheetham about 1842. Their children were Lucy Eaton, who married John Blackwall, and William Cheetham Eaton. Someone named Robert Eaton Blackwall is named as Thomas Eaton 1's cousin in the lawsuit, but the relationship is not clear.
In the 1861 lawsuit, Richard Eaton 2 is the plaintiff, arguing that the money from Eliza Eaton 1's estate through her father Thomas Eaton 1, should be distributed to all the nieces and nephews, not to EE's surviving sister, Mary Thalia Eaton Hewitt. This was based on a grammatical absurdity in the lawsuit, as stated by the presiding judge (see the 1861 law report link).
Mary Thalia Eaton Hewitt and Thomas Hewitt 1 had seven or eight children. These children and their respective spouses or surviving partners are all named in the lawsuit as defendants (one unnamed child might have died soon after birth): Eliza 1831-1891(married George Goodwin); Thomas Eaton Hewitt (married twice), Mary (married Alfred Bryer), Ann (unmarried), Sarah (married Mathew Walker), Benjamin 1843 – 1901 (married Mary Anne Brindley – our connection), Catherine Elizabeth b. c. 1845 – 1917(unmarried – "Aunt Kate").
The children of Richard Eaton 1 (1782-1842) and Anne Hewitt Eaton (d. 1860) are named in the lawsuit as defendants. In a couple of instances, the spouses of the deceased children are named. The following chart summarizes the familial relationships of the defendant families in 1861. Since Thomas Eaton 1 had died 29 years previously, the estate had probably escalated in value, and it had been managed by Richard Eaton 2.
Plaintiff
Richard Eaton 2
Son of Richard Eaton 1 and Anne Hewitt Eaton (both deceased)
Defendants – Family 1
Thomas Hewitt and Mary Thalia (Eaton) his wife Thomas Eaton Hewitt George Goodwin and Eliza (Hewitt) his wife Mary Hewitt Ann Hewitt Sarah Hewitt (minor at time) Benjamin Hewitt (minor at time) Catherine Elizabeth Hewitt (minor at time)
Mary Thalia Eaton Hewitt – daughter of Thomas Eaton, Surgeon, deceased. Thomas Eaton Hewitt, Eliza Goodwin, Mary Hewitt, Ann Hewitt, Sarah Hewitt, Benjamin Hewitt 2, and Catherine E. Hewitt – (children of Mary Thalia Eaton Hewitt and Thomas Hewitt1, grandchildren of Thomas Eaton 1, Surgeon, deceased.)
Defendants – Family 2
*Richard Eaton Hewitt
*Son of Benjamin Hewitt 1 and Mary Eaton 1 Hewitt
(this is a presumed relationship – proof of marriage between Benjamin Hewitt 1 and Mary Eaton 1 has not been located.
Defendants – Family 3
**Elizabeth Eaton – grand daughter (child of **Thomas Eaton, decesased) The Rev. Henry Cheetham(son-in-law) and **Anne his wife (daughter) **Mary Eaton (daughter) Edwin Earle (spouse of deceased daughter **Catherine) John Allen Bush son-in-law) and **Eliza his wife (daughter)
Living children of Richard Eaton 1at time of lawsuit are ** (Anne, Mary, Catherine, Eliza and granddaughter (Elizabeth Eaton). Decesased children were Thomas Eaton (immigrated to Australia, d. 1840, was a lawyer – father of Elizabeth Eaton, previously mentioned) Catherine Eaton Earle, and William Eaton, who was the shooting victim.
To put the story another way:
The complications started about ten years after Thomas Eaton 1's death in 1832. Thomas Eaton 2, son of Richard Eaton 1 had been the executor but immigrated to Australia where he was a lawyer, and died in 1840. Richard 1 became the executor and when he died in 1842, the person who took over the executor and estate management appears to eventually have been his son Richard Eaton 2. 
Richard 2, lived with Mary Thalia and Thomas Hewitt 1 in 1841. Mary Thalia and Richard 2 were first cousins on the Eaton side (their fathers were brothers) and they also might have been related on the Hewitt side, if Anne Hewitt 1 was Thomas Hewitt 1's sister.
Richard Eaton 2 was 25, according to the 1841 census. He was the plaintiff in the Hewitt-Eaton lawsuit in 1861, trying to claim the estate from Mary Thalia Eaton Hewitt, all her children, and his own siblings.
I found the lawsuit very difficult to understand. The outcome of the case rested on what the judge declared to be a legal absurdity, stating, "An absurdity is involved by holding the doctrine, you must not hold it." The whole case was absurd because it rested on Mary Thalia Eaton's Hewitt's not being married, and not having children, which she had already achieved at the time of her father's death in 1832. Therefore to declare a state of intestacy was negated since the situation it rested on was false (namely that MT had not gotten married and not had children, but she did get married and she did have children).
The absurdity was outlined by the judge as follows:
If Eliza Eaton had married and had had children, then Thomas Eaton 1's estate would have been divided between her and Mary Thalia Eaton Hewitt (sisters).
If Eliza Eaton did not marry and did not have children, then the money from the estate (invested in properties, etc.) would have all gone to her support as a single woman.
Then, when Eliza Eaton died, the will reads as if the money should skip over Mary Thalia Eaton Hewitt and go to her surviving children.
Richard Eaton 2 decided it should go to him and maybe his siblings (not sure about this point).
One of the sons of Benjamin Hewitt wrote in a letter to Hilda Milligan that his grandfather (who would have been Thomas Hewitt 1) was "fleeced out of an inheritance by an uncle, Richard Eaton".
Around 1917, some money came down as an inheritance to descendants of Thomas Hewitt and Mary Thalia Eaton Hewitt. It was called "Aunt Kate's money". Relatives in New Zealand (the Goodwins) and Bon Accord (the Milligans) both remembered this legacy money arriving about 300 pounds.
This story has many unknowns and suppositions. The original depositions are available, difficult to read in their flowing script, and also a report from The Law Reporter, Vol. 7, November 4 and 5, 1861, Eaton v. Hewitt, pages 496-499, V.C. Kindersley's Court.
http://discovery.nationalarchives.gov.uk/details/r/C7872364
https://books.google.ca/books?id=zqkDAAAAQAAJ&pg=PA496&lpg=PA496&dq=thomas+eaton+surgeon+died+1832&source=bl&ots=gzAy9yhLyU&sig=zAgwUSOM3DK8YZYrXOecjnWVHpo&hl=en&sa=X&ved=2ahUKEwj0msCx64ffAhWH6IMKHceUCI4Q6AEwCnoECAEQAQ#v=onepage&q=thomas%20eaton%20surgeon%20died%201832&f=false,
---